Drug Metabolism and Pharmacokinetics (DMPK)
At Frontage, our scientific staff provides comprehensive Drug Metabolism and Pharmacokinetics (DMPK) services, applying state-of-the-art techniques and best-in-class approaches to generate data for critical milestones and decision-making during drug discovery and development. The highly trained and experienced scientific team provides broad and in-depth expertise/advice to clients on appropriate study designs, execution of studies, and interpretation of the data. We offer extensive drug metabolism and pharmacokinetic capabilities for new chemical entities and compounds in development. We provide rapid turnaround of high-quality key DMPK data sets to support critical decisions in advancing potential therapeutic agents for further development.
Comprehensive DMPK Services to Support Drug Discovery and Development
A range of capabilities and experience exist at Frontage to support the discovery and development of drug candidates.

In Vitro ADME and In Vivo Studies
In Vitro Services

In Vitro ADME Screening
In Vitro ADME Development Studies

In Vivo Services
Metabolite Syntheses and Radiolabel/Isotope Services
Synthesis of stable isotopes for metabolism studies and as internal standards for GLP bioanalytical studies
Synthesis of metabolite standards (chemically or biologically)
Quantitative Whole Body Autoradiography (QWBA) Studies and Dosimetry
Quantitative Whole Body Autoradiography (QWBA) studies are designed to evaluate the time course of elimination for total radioactivity from tissues in animals. Tissue distribution data obtained from a QWBA study will be utilized to support regulatory submissions, and discovery projects, and to provide dosimetry calculations required by regulatory authorities and institutional review boards prior to the administration of radiolabeled drugs to human research subjects.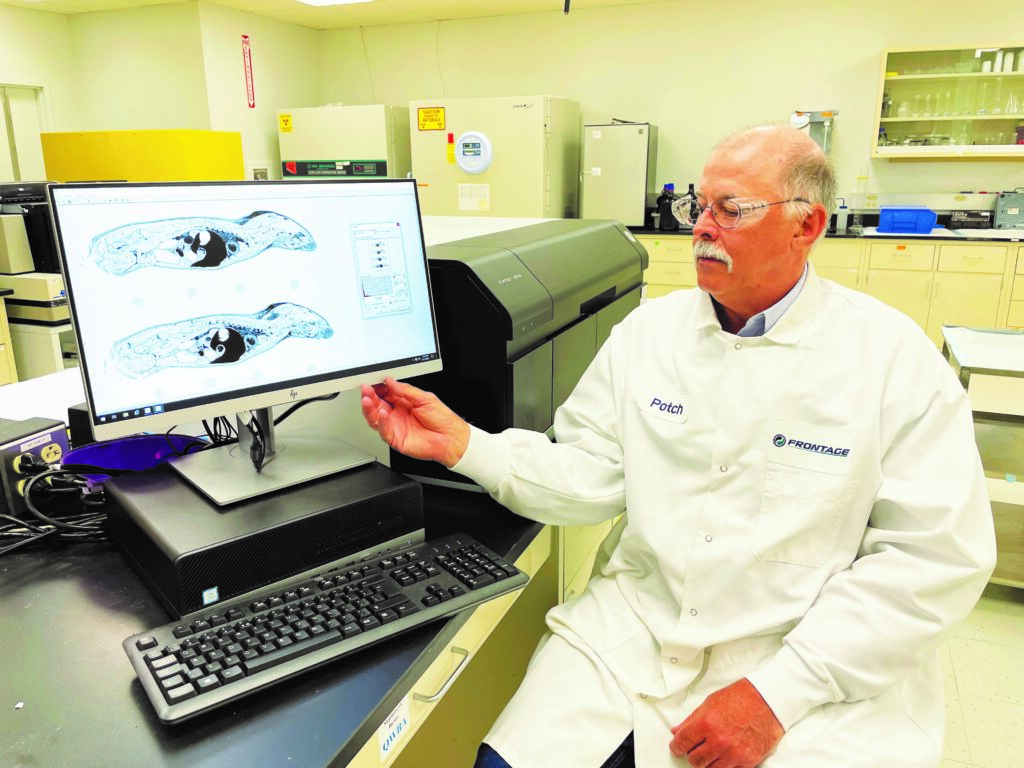 Comprehensive studies include in-life administration with radiolabeled compounds, sample collections, mass balance, the pharmacokinetics of total radioactivity and the test compound, and metabolite profiling in plasma, urine, and feces. Studies are performed in collaboration with Frontage Clinical Services.