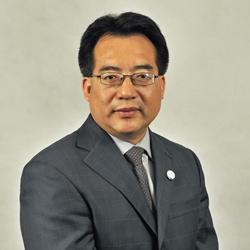 John Lin, Ph.D.
President, Frontage Laboratories, Inc.
Dr. John Lin is the President of Frontage Laboratories, Inc. Before this, he served as the Executive Vice President, Bioanalytical and Biologics Services, where he led operations for the company's global bioanalytical labs. Before joining Frontage, he served as a business leader in AstraZeneca's global drug metabolism and pharmacokinetics (DMPK) division. Prior to AstraZeneca, Dr. Lin was Laboratory Director for Avantix Laboratories.
With more than 20 years of experience, Dr. Lin's current research focus is in the area of bioanalytical method development and validation, dry blood spot (DBS) sampling with LC-MS/MS analysis, and biomarker quantification using LC-MS/MS. He has contributed to more than 20 research publications covering the development and validation of LC-MS/MS methods for the determination of small and large molecules in biological matrices, four book chapters, and one technical patent. He is the invited reviewer for several international journals including the Journal of Pharmaceutical Biomedical Analysis (JPBA) and the Journal of Chromatography B (JCB).
Dr. Lin earned a doctor of philosophy degree in analytical chemistry from Dalhousie University in Canada. He received a master's degree in analytical chemistry from Yunnan University and a bachelor of science degree in chemistry from Fuzhou Branch School of Jiangxi Normal College. Dr. Lin completed post-doctoral research in pharmacokinetics and metabolism at the College of Pharmacy and the Comprehensive Cancer Center of the Ohio State University.