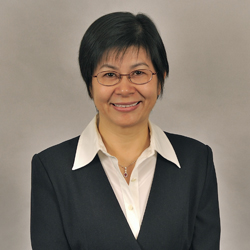 Dongmei Wang, Ph.D.
Executive Vice President, Global CMC Services
With more than 20 years of pharmaceutical and biotech industrial experience, Dr. Wang is responsible for the Global CMC (Chemistry Manufacturing & Control) Services at Frontage, including analytical services, formulation development, and manufacturing of GLP preclinical tox batches & GMP clinical trial materials. Products include oral formulations, topical and sterile injections & ophthalmic formulations for IND, NDA, and ANDA filings. Prior to joining Frontage in February 2007, Dr. Wang served as the director of Analytical Chemistry at NovaDel Pharma Inc., where she led teams providing support for NDA product development, clinical supply manufacturing, CMC sections of 505(b)(2) filings, and technology transfer to commercial manufacturing sites. Prior to NovaDel, Dr. Wang headed Pharmaceutical Analysis and Control department at Therics Inc. to support 3D printing product development for 510(k) and IND filings. Earlier in her career, Dr. Wang was a lecturer at the Graduate University of Chinese Academy of Science.
Dr. Wang earned her Ph.D. in Chemistry from Iowa State University, followed by postdoctoral research at the University of Chicago. She received her MS in Chemical Engineering from China Institute of Atomic Energy and a BS in Chemistry from Peking University in China.