Capabilities
Service Capabilities to Support the Fight Against COVID-19
At Frontage Labs, we are committed to address immediate threats of COVID-19 by supporting development of new vaccine and anti-viral therapeutic programs. According to the World Health Organization (WHO) and Clinical Trial.Gov, there are more than a 2,300 ongoing clinical trials to find a cure for COVID-19. We are working closely with biopharma sponsors globally to provide solutions to support the development of new therapeutics, vaccines, and testing kits. Our labs are open and fully operational to support your immediate project needs. We have the ability to process COVID-19 molecular and antibody testing, in addition to COVID-19+ positive PK and PD samples. Frontage can offer rapid turn-around in the following service areas:
Bioanalytical Method Validation and Sample Analysis in a Designated BSL-2 Lab:
Frontage's GLP and CLIA dedicated facilities are ready to receive and analyze COVID-19 biological samples for new vaccines and drug therapies in our Biohazard Safety Level-2 (BSL-2) labs. Our 20+ year of scientific and operational expertise in bioanalysis positions us to support our clients during the COVID 19 pandemic for method development, validation and sample analysis across a multitude of industry leadings platforms including LC/MS-MS and MSD.

Formulation Development and GMP Clinical Trial Material Manufacturing
Our formulations development and GMP CTM team has the ability to expedite COVID-19 projects to support our clients in the race to address the pandemic. We can quickly provide oral and sterile formulated GMP clinical trial materials to be used for COVID-19 patients.
Analytical Support for COVID-19 Testing Kits and Products
Our analytical chemistry teams can analyze finished drug products to be used for COVID-19 patients.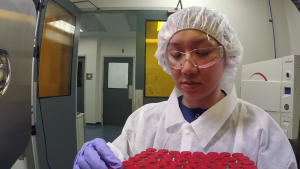 Safety and Toxicology
Frontage's Safety/Toxicology site in Concord, Ohio has a long history of undertaking IND enabling and specialty studies of pharmaceuticals, vaccines and other products, and during the ongoing COVID-19 situation the site continues to operate at full capacity. The site undertakes studies in NHPs and all other common laboratory species, and is supported by robust add-on capabilities including bioanalysis & histopathology.