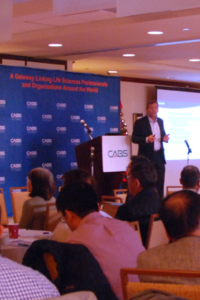 Frontage Sponsors the CABS workshop "Preclinical and Early Phase Development of Biologics and Small Molecules"
Burlingame, CA (December 11th, 2018) – CABS workshop "Preclinical and Early Phase Development of Biologics and Small Molecules" sponsored by Frontage Laboratories, Inc., was successfully held on December 11th, 2018 at DoubleTree Hotel in Burlingame, California. The workshop featured four presentations by leading experts in areas of preclinical and early stage development of biologics and small molecule therapeutics and a lively panel discussion on hot topics and emerging trends in biologics and small molecule drug development. The workshop was well received by around one hundred attendees from life science related industries including life science technology companies, bio-pharmaceutical companies, academic institutions, investment firms, and etc.
Hugh M. Davis, P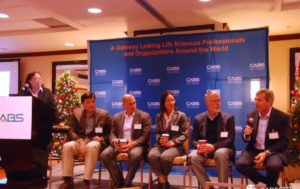 hD, Chief Business Officer (CBO), in charge of Business Development, Sales, Marketing and Strategic Partnerships for Frontage Laboratories, Inc., shared his expertise in preclinical and early phase development of biologics and keys to the biologic IND. His talk covered a wide variety of aspects from development of biologic therapeutic platforms, CMC strategies, starting dose determination for first-in-human studies, toxicity assessment studies and IND strategies.
Steven Chamow, PhD, Vice President of Development at Aridis Pharmaceuticals. Inc. He firstly walked through the development of FDA-approved mAbs and derivatives from year 1986 to present, then he introduced the process for production of mAb bulk drug substance in detail. He used two new antibiotics invented by Aridis (AR-301 & AR-105) as examples to illustrate that Aridis monoclonal antibodies are designed to show superior clinical outcomes over standard of care.
Yuanchao (Derek) Zhang, PhD, President, Alavanda Regulatory & Drug Development Consulting, Inc. shared his experiences with Chinese Pharmaceutical Companies, including 58 IND projects and among them with 32 US FDA IND approvals. In his talk, he discussed 6 case studies of successful regulatory applications. Dr. Zhang summarized his talk with drug development and regulatory strategies.
Mark T. Marino, MD, Chief Medical Officer at Imugene Ltd. provided in-depth view on considerations for early stage trials from a clinical pharmacology perspective. In his talk, he shared his expertise in clinical pharmacology, dose selection principles and emerging modeling techniques for clinical pharmacology studies.
The workshop was concluded by a lively and informative panel discussion moderated by Cheni Kwok, PhD, CLP, Managing Partner and Founder, Linear Dreams. Panelists include the above 4 speakers and Cuiping Chen, PhD, Senior Director, Clinical Pharmacology and Early Development at Jazz Pharmaceuticals. The panel discussion focused on interesting and insightful topics such as: the advantages and disadvantages of developing small molecules vs. biologics, the future trends for small molecule drug development vs. large molecule drug development. The heated discussion was highly interactive with the engaged audiences. Followed by the discussion was a networking session.
About Us:
Frontage is a full service CRO providing integrated, scientifically-driven research, analytical and development services throughout the drug discovery and development process to enable biopharmaceutical companies to achieve their drug development goals. Frontage has enabled many innovator, generic and consumer health companies of all sizes to file IND, NDA, ANDA, BLA and 505(b)(2) submissions in global markets allowing for successful development of important therapies and products for patients. Frontage has successfully assisted clients to advance hundreds of molecules through development to commercial launch in global markets.