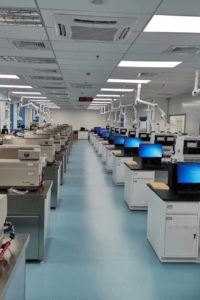 Frontage Holdings launched a new 42,000 sq.ft. lab in Shanghai, China
Frontage Holdings launched a new 42,000 sq.ft. lab in Shanghai, China
Shanghai, Sep 6, 2019 – Frontage Holdings Corporation ("Frontage Holdings" or "Frontage," stock code: 1521.HK), a Contract Research Organization ("CRO") providing integrated, science-driven research, analytical and product development services in both the U.S. and China, announced today the opening of a new lab facility in Shanghai, China.
Located at Building 2, No.1227 Zhangheng Road, Pudong, Shanghai, the new lab space of 42,000 SF is dedicated to the bioanalytical effort and sample management of small molecule programs. Meanwhile, its previous bioanalytical lab facility of approximately 16,000 SF, located at No.13 Building, 67 Libing Road, Zhangjiang Hi-Tech Park, Shanghai, China, will be entirely dedicated to the bioanalytical support of biologic programs including proteins, cell and gene therapy and biomarkers.
So far, Frontage operates four bioanalytical labs in both the U.S. and China, including two in Shanghai, one in Suzhou, China and one in Exton PA, U.S., with a total space of over 140,000 SF. In addition, a 10,000 SF expansion of the bioanalytical lab to support biologic programs in Exton, PA is also scheduled for completion by the end of 2019.
The grand opening of the 42,000 SF new lab space in Shanghai is a significant milestone for Frontage, it will help us to effectively resolve bottlenecks of our service capacity," said Dr. Song Li, founder and honorary chairman of Frontage Holdings, "As always Frontage is committed to provide superior research, analytical and product development services to help more pharmaceutical companies to achieve their drug development goals, and benefit patients worldwide."