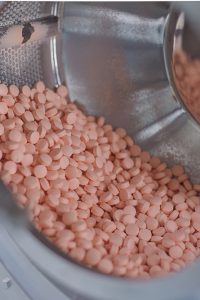 Frontage Holdings expands CMC service in China by raising its shareholding in Frontage Suzhou to 75%
Hong Kong, China. October 25, 2019 – Frontage Holdings Corporation ( "Frontage Holdings" or "the Group", 1521.HK), a contract research organization ("CRO") providing integrated, science-driven research, analytical and development services with presence in both the United States and China, today announced Frontage Laboratories (Shanghai) Co., Ltd.("Frontage Shanghai"), an indirectly wholly-owned subsidiary of the Group, entered into the stock transfer agreement with an independent third party individual. According to the agreement, Frontage Shanghai will acquire 25.96% stake in Frontage Laboratories (Suzhou) Co, Ltd. ("Frontage Suzhou") owned by the individual third party for a cash consideration of RMB 14,433,800. Upon the completion of the Acquisition, Frontage Shanghai will own a 75% stake in Frontage Suzhou. As a result, Frontage Suzhou will become a subsidiary of the Group with an indirect 75% equity. Therefore, Frontage Suzhou's financial results, assets and liabilities will be consolidated into the Group's financial statements.
Frontage Suzhou established on January 7, 2014, and carries out Chemistry, Manufacturing and Control ("CMC") operations in the PRC. Its service offering is similar with the Group's CMC services in the U.S., which includes formulation development, product testing, stability testing, clinical trial manufacturing, international quality system promotion and related registration services. In 2017 and 2018, net profit after tax of Frontage Suzhou was approximately RMB 4.5 million and RMB 6.1 million respectively. Net assets was RMB 17.3 million as at December 31, 2018.
"With the rapid growth of pharmaceutical research and development, there is a huge market potential for CMC services in China," said Dr. Song Li, founder and honorary chairman of Frontage Holdings, CEO of Frontage Laboratories, Inc. "The increase of equity interest in Frontage Suzhou will expand the Group's CMC capabilities and business in China, which can also allow us to provide more comprehensive and high-quality services in the CRO industry to meet the drug development demand from our partners, and ultimately to benefit the patients."
About Frontage Holdings Corporation
Frontage Holdings is a fast-growing contract research organization ("CRO") providing integrated, science-driven research, analytical and development services throughout the drug discovery and development process to enable pharmaceutical companies to achieve their drug development goals. The Company benefits greatly from having operations in both the United States and China – the two largest markets for CRO services in the world and is well placed to capture growth opportunities in both markets.
The Company believes that "Two Countries, One System" approach differentiates itself from competitors, as it assures the customers the same quality standards in both China and the United States, while also providing company's customers with a detailed and highly experienced understanding of the regulations and requirements for drug discovery and development in both countries. The Company positions itself as a value-add partner with a focus on solving customers' most significant and complex drug discovery and development challenges. The Company's scientific knowledge base, technical expertise and reputation for high quality services have been integral to its ability to enter into strong long-term strategic relationships and partnerships with the key customers.