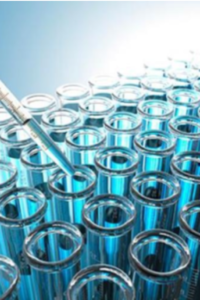 Frontage Expands Drug Metabolism & Pharmacokinetic (DMPK) Services by Acquiring Biotranex


Exton, Pennsylvania – Frontage Holdings Corporation ( "Frontage" or "Company", 1521.HK), a contract research organization ("CRO") providing integrated, science-driven research, analytical and development services with presence in both North America and China, today announced that Frontage Laboratories, Inc. ("Frontage Labs"), a wholly-owned subsidiary of the Frontage, entered into an equity purchase agreement with third party individuals. According to the agreement, Frontage Labs purchased the entire equity interest in Biotranex, LLC ("Biotranex").
Biotranex, an innovative biotech service company located in New Jersey, USA, is principally engaged in providing a broad spectrum of drug metabolism and pharmacokinetic studies for pharmaceutical and biotechnology companies. It offers a variety of services to study transporter properties of new chemical entities to meet the FDA and EMA guidance such as mono- or bi-directional permeability determination in CACO-2, MDCK and P-gp- and BCRP-transfected cell lines; transporter phenotyping/inhibition (IC50 or Ki) and hepatic uptake in hepatocytes from humans and preclinical species. Biotranex has also developed proprietary technologies, such as BSEPcyte® and MDR3cyte® in understanding the role of Bile Salt Export Protein (BSEP) and Multidrug Resistance Protein 3 (MDR3) in drug-induced liver injury (DILI).
Expressing his thoughts about the acquisition, Dr. Abdul Mutlib, Executive Vice-President of DMPK Services at Frontage, said "Biotranex, LLC was established more than 10 years ago, specializing in conducting transporter assays for potential new therapeutic agents. The acquisition will fill our existing gap in transporter assay capabilities at Frontage Labs. This will now enable us to provide a more comprehensive set of DMPK services to existing and new clients. It is anticipated that Biotranex will strengthen the client base by bringing in new and existing clients, and become a center of excellence in transporter studies."
Dr. Kan He, General Manager of Biotranex, LLC also expressed his excitement about the acquisition, specifically stating "We are excited to now be a part of the Frontage family, and are looking forward to what lies ahead. Biotranex brings onboard decades of experience and expertise in transporter research and services, which will form incredible new synergies and opportunities at Frontage. We believe that through the acquisition we will establish a center of excellence, helping Frontage to be the global leader in ADME research services."
Dr. Song Li, Chief Executive Officer of Frontage Labs also expressed his thoughts about the acquisition, "In completing the acquisition, we will expand our capacity with additional talent, equipment, and facilities to be used in the provision of existing and novel services to our customers. This acquisition will accelerate the creation of 'Centers of Excellence in Drug Metabolism' within Frontage in both North America and China. It will also enable Frontage to extend its presence in New Jersey, giving it a geographical footprint in a location where several major pharmaceutical companies are located. The combined resources will enable Frontage to move towards becoming a global leader in providing metabolism services to our existing and new clients in pharmaceutical and agrichemical industries."
About Frontage Holdings Corporation
Frontage Holdings Corporation is a fast-growing contract research organization providing integrated, science-driven research, analytical and development services throughout the drug discovery and development process to enable pharmaceutical companies to achieve their drug development goals. The Company benefits greatly from having operations in both North America and China – the two largest markets for CRO services in the world and is well placed to capture growth opportunities in both markets.
The Company believes that a "Two Countries, One System" approach differentiates itself from competitors, as it assures the customers the same quality standards in both China and the United States, while also providing company's customers with a detailed and highly experienced understanding of the regulations and requirements for drug discovery and development in both countries. The Company positions itself as a value-add partner with a focus on solving customers' most significant and complex drug discovery and development challenges. The Company's scientific knowledge base, technical expertise and reputation for high quality services have been integral to its ability to enter into strong long-term strategic relationships and partnerships with the key customers.