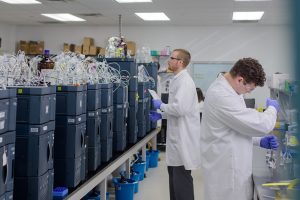 We specialize in analytical method development, validation and transfer for product development and clinical trial materials (CTM) manufacturing support, as well as commercial product release and stability testing.
Our services are designed to help sponsors throughout the drug development process in their effort to fully characterize drug substances, developmental formulations and commercial drug products.
Method development, validation and transfer
Unknown impurity identification
Extractable and leachable studies
GMP API and finished product release testing
GMP commerical product stability testing and storage
GLP dosing sample analysis
DEA license for testing controlled substances (Schedule I-V)
In Vitro Release Testing (IVRT) & In Vitro Permeation Testing (IVPT)
Frontage offers comprehensive IVRT and IVPT testing services, from preclinical formulation assessments to early phase human studies, for topical products.
An extensive menu of in vitro studies helps you:
Develop and select the optimal formulation
Assess the effect of penetration enhancers/modifiers on percutaneous absorption
Develop and validate novel analytical and sample processing methods for optimized sensitivity and selectivity
Develop, validate, and conduct in vitro release test (IVRT) assays for FDA SUPAC-SS submissions
Provide compliance for GLP studies and analytical method validations
Our IVRT method development and validation services for topical dosage forms such as ointments, creams, lotions, gels and liquid include:

Generic (e.g., RLDs) versus innovator drugs comparison
Pre- and post-change formulations comparison
Quality control/lot release, lot-to-lot variability
Formulation optimization
Analytical method development and validation